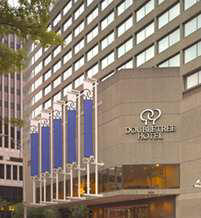 The DoubleTree Hotel
Nashville Downtown
Centrally located in the heart of Music City USA, this hotel combines traditional Southern charm and contemporary luxury in perfect harmony. Step outside, and you'll find yourself within mere blocks of the city's most vibrant restaurants, businesses, and nightlife. By blending a superior location with the the first-class service you expect and deserve, this downtown Nashville hotel provides the ideal setting for the Casper Platoon Reunion 2011.
Special Casper Room Rate: $117 per night.
Reservations: 615-747- 4814 Code: CAV




DoubleTree Hotel Nashville Downtown

315 4th Avenue North ∙ Nashville, Tennessee 37219

Casper Reservation: 615-747-4814 Website

You must call this number and mention the Casper Platoon Reunion.

Please call and book your room today! Rooms are filling up fast.

From Airport Directions: 10 Miles Nashville International. Take I-40 West toward Memphis. Exit at Church St/Charlotte Ave Exit. Turn right onto Charlotte Avenue. Continue on Charlotte to 4th Avenue. Turn right and go one block. The hotel will be on the right.

Overnight Valet Parking: Special $16 per night for Casper Reunion Guests.

Transportation: Gray Line Downtown Airport Express leaves every 30 minutes from 6am-11pm.

Taxi available 24 hours a day.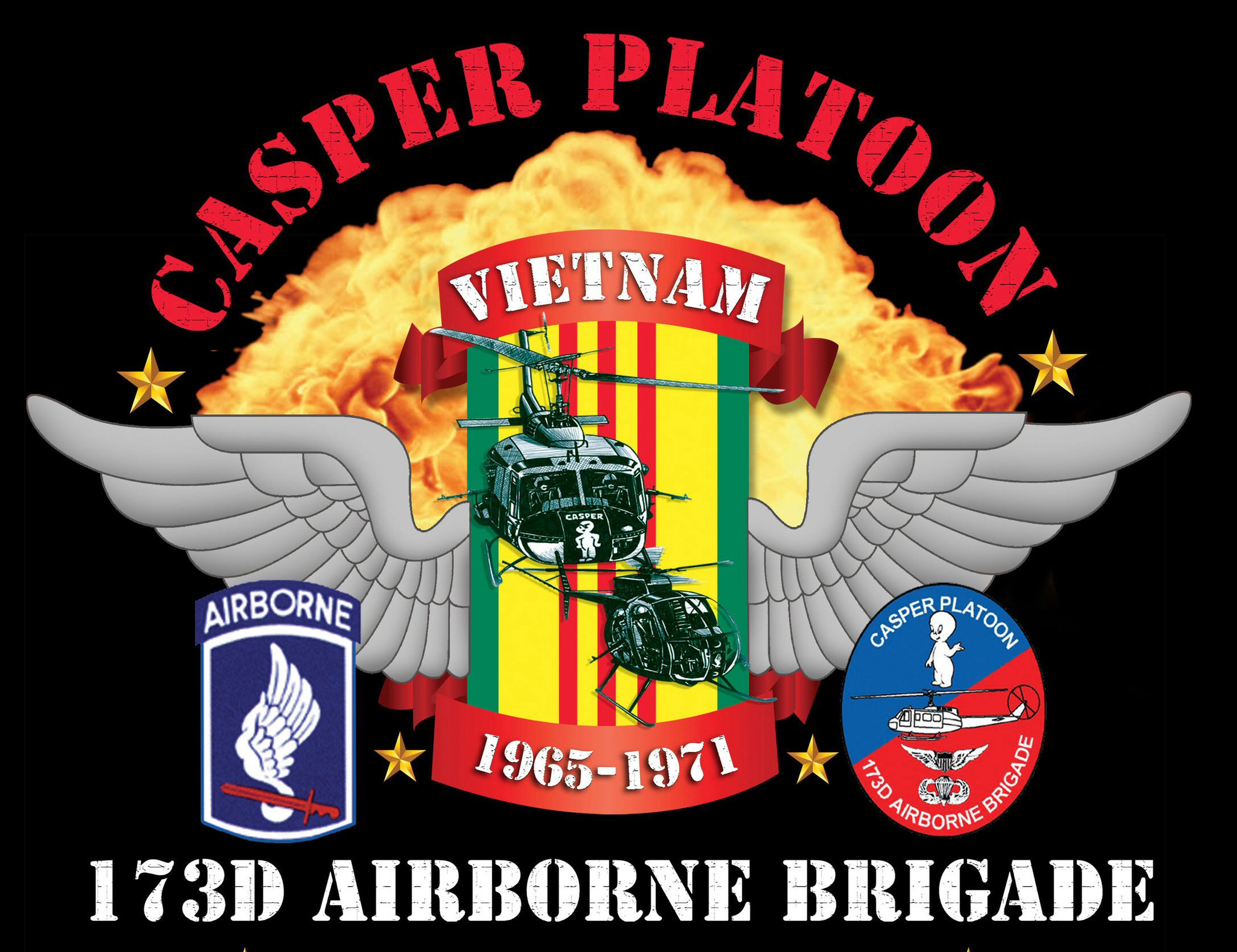 Casper Platoon Reunion
Registration Fee and Other Costs
Casper Registration Fee
$50 single Casper or $75 per family
Reunion Luncheon Banquet Dinner $25 per person $50 per person
Joe Kline Art Raffle Other Raffles Prizes $5 per ticket $20 per 20 tickets
We encourage those who are planning to attend the reunion to please fill-out the online registration form (Register Now) and list everyone in your party that will be attending our event. Please make your check payable to: CAPO and mail it to Ned Costa. We would like to have your registration fee and catering meals paid ASAP. Register Now
Saturday, June 25 Reunion Agenda

12 Noon - 5 pm

Casper Check-In & Hospitality Room / Jackson Room 2nd Floor

6:00 pm - 9:00 pm

Ice Breaker Party / Salon E

Sunday, June 26

11:30 am - 1:30 pm

Casper Luncheon (All Invited) / Salon E

7:00 pm - 12:00 am

Wild Horse Saloon (Optional Event / All Invited)

(This includes Buffet Dinner, Live Music, Show & Dancing)

9:00 am - 12:00 am

Hospitality Room (Open) / Jackson Meeting Room 2nd Floor

Monday, June 27

8:00 am - 9:30 am

CAPO Business Meeting & Breakfast

(Members Only in Jackson Meeting Room 2nd Floor)

11:30 am - 1:30 pm

Ladies Luncheon (Optional / Gals) / Heritage Hotel

11:30 am - 1:30 pm

Photo (Optional Lunch & Bar) / Guys / Tootsies Orchid Lounge

9:00 am - 12:00 am

Hospitality Room (Open) / Jackson Meeting Room 2nd Floor

Tuesday, June 28

10:00 am - 12:00 pm

Tour of Tennessee State Capital / (All Invited)

5:30 pm - 12:00 am

Casper Banquet Dinner & Dance / Cumberland South

9:00 am - 5:00 pm

Hospitality Room (Open) / Jackson Meeting Room

Wednesday, June 29

11:00 pm

Hotel Check-Out
Optional Event Prices
Wild Horse Saloon Ladies Luncheon Men's Breakfast
Dinner, Live Music, Show & Dancing Menu Selection CAPO Business Meeting
$38 per person $30 per person $7 per person
_____________________________________________________________________________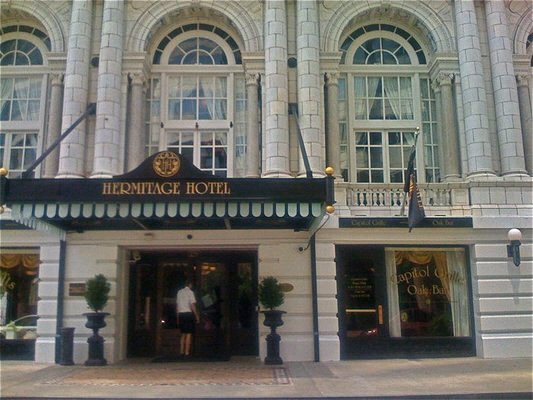 The Wildhorse Saloon
The Wildhorse Saloon is a three-level historic warehouse turned into a 66,000 square foot live music and dance destination.
This should be a lot of fun. Most will walk the few blocks to the event but POVs will be available to those that can't walk. Dinner buffet, Hickory Smoked Pulled Pork, BBQ Chicken, Wild Horse Baked Beans, Vegetables, Cole Slaw, Potato Salad, Rolls and Cornbread, Fruit Cobbler, Coffee and Iced Tea. There will be a live country show and dancing. We are to be seated right up front on one side of the dance floor. There will be line dancing lessons as well.
This is an optional event for your entire family to enjoy. If you would like to attend this event, please let us know now for advance planning purposes. Contact Art McBride: Wildhorse Saloon - YES
The cost per person for this exciting night out is $38 per person. Please print and fill out the reservation form and mail it along with your check to Ned Costa:
Wildhorse Reservation
_____________________________________________________________________________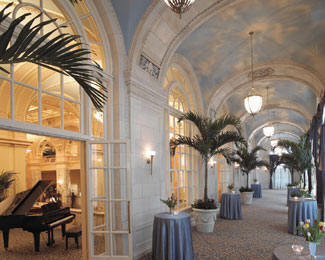 Capitol Grille Ladies Luncheon
The Capitol Grille is a well celebrated and award-winning venue located in the historic Hermitage Hotel. Superbly appointed in an understated style of traditional elegance, the hotel's restaurant has hosted some of America's most noted individuals. Now it's our Casper Ladies turn.
The meal selections are TBA.
The Capitol Grille Restaurant is located only two blocks from the DoubleTree Hotel.
Contact Art McBride: Ladies Luncheon - YES
The cost per person for this most enjoyable luncheon is $30 per person. Please print and fill out the reservation form and mail it along with your check to Ned Costa: Ladies Luncheon Reservation
_____________________________________________________________________________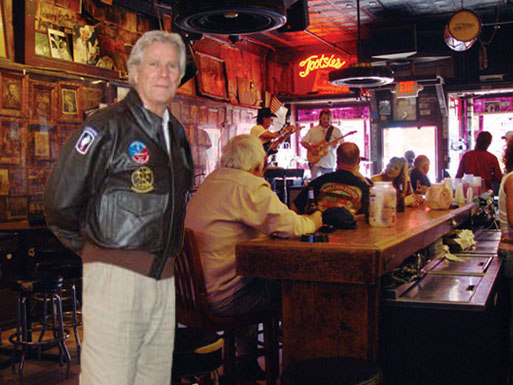 Tootsies Orchid Lounge
Man, don't let this name fool you! There is a lot of music history here folks and best of all, this is where we plan to take our traditional "Jacket" photo.
The photo will be taken on Monday while the ladies are at their luncheon. Please bring your Casper leather flight jacket for this photo. Art McBride will post all of the details at the hotel. Bring some cash. I hear the beer is cold and the food is good.
Art has also made the arrangements to hang our 2011 photo in the lounge.
_____________________________________________________________________________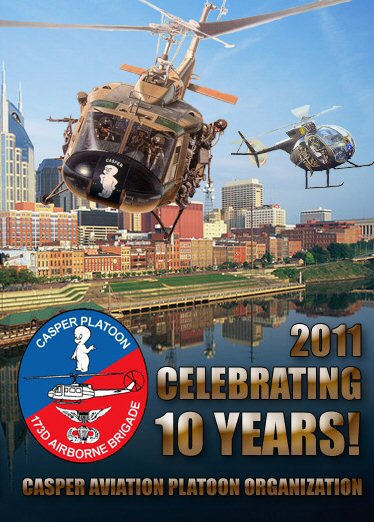 Special Slide Show Presentation
CAPO "The First 10 Years"
This DVD presentation will be seen at the Reunion Luncheon on Sunday, June 26.
« Casper Aviation Platoon Organization will soon be celebrating it's "10th Anniversary" at our 2011 reunion. It is hard to believe that we formed this group only nine years ago and have provided so many Caspers with the means and opportunity to reunite once again. Who would have ever thought some 40+ years ago that any of us would have the means to communicate with each other by using the technology of today.
We decided to keep CAPO simple and to make it a place that members would be proud of and could hang their hat. Many Caspers and their families have successfully met each year and have enjoyed nine very awesome reunions. This camaraderie has also helped to create several other great Casper get-togethers & mini-reunions during this time.
To celebrate our first 10 years, we will present this upbeat and uplifting presentation showing reunion photo memories of everyone who has ever attended any of the past 9 reunions. It is great to see everyone again, especially the Caspers who have not been to a reunion in recent years and to remember those who have passed since then.
_____________________________________________________________________________
Tennessee Capital Building Tour - Information "Under Construction" Check back soon.
Reunion Meals at the Hotel

The DoubleTree Hotel Nashville Downtown is well known for their dedicated Culinary Staff. Keeping with Casper tradition, an outstanding meal has been selected for our Sunday Luncheon. At our Tuesday evening Banquet and Dance, you will be able to select from Beef, Chicken or Salmon Dinner -- Everyone's invited!

Ice Breaker Reception Cash Bar, Hot & Cold Snacks.

Luncheon: Cash Bar, Lunch Buffet with Fried Chicken, Southern Fried Catfish, Cole Slaw, Green Beans, Wild Rice Pilaf, Rolls, Fruit Cobbler, Coffee and Tea ($25 per person).

Banquet: Cash Bar, Dinner Buffet: Green Salad with two Dressings, Sliced Roast Beef with Au Jus, Chicken Quattro Formagio (Sautéed Chicken Breast topped with a melted blend of Parmesan, Asiago, Mozzarella and Smoked Gouda Cheeses and served w/Mushroom Veloute Sauce), Salmon, Roasted Vegetables, Mashed Potatoes, Rolls, and Alternative Desserts of Red Velvet Cake and Gramma's Apple Spice Cake, Coffee and Iced Tea ($50 per person).

Men's Breakfast & Business Meeting: Hot Continental Breakfast consisting of Pastries, Hot Biscuits and Sausage Gravy, Fruit, Coffee and one Juice ($7 per person).

Guest Speaker information will be available soon!

Casper Aviation Platoon

Reunion Shirt (100% Embroidered)

Casper Shirts are available in all men & lady sizes!

Shirt with front left 173d Airborne/Casper image only:

$32/each (sizes: S - XXL) $34/each (size: XXXL).

Add the "Optional Image" on the back for: $13/each.

ACT NOW "ORDERING DEADLINE IS: DECEMBER 1, 2010"

All Shirts are to be ordered directly through Art McBride.

ORDER FORM: Casper Camp Shirt (Print & mail your order form with check to Art).

Please do not add the cost of your shirts to any of your "CAPO" Reunion checks. If you have any questions, please email Art McBride at: Casper921@BellSouth.net