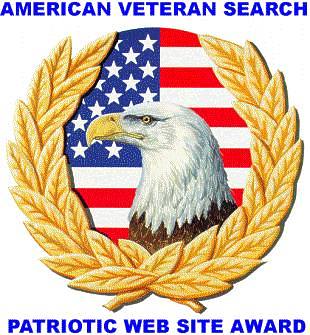 American Veteran Search
Patriotic
Website Award
Presented to
CasperPlatoon.com
Congratulations, Ned Costa from American Veteran Search. We are proud to tell you that your website has been chosen to be featured in our AVS Monthly Newsletter in the "Top 10 Patriotic Site Award" section.
We have spent the time reviewing thoroughly the "Casper Aviation Platoon" website. We are incredibly amazed at the growth and the competent manor in which you have taken to bring this worthwhile endeavor to America's Veterans. Veterans mostly forgotten by the citizens who enjoy their freedom fought and won with tremendous sacrifice by veterans. Veterans prepared to fight, and having given of themselves in many conflicts throughout American history, deserve more. It is obvious your tremendous love of our American Veterans who served their country. It is with much Pride that we present you with our, "Patriotic Site Award".
Thank you,
American Veteran Search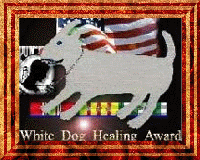 White Dog Healing Award
Presented to
CasperPlatoon.com
As a door gunner on the Huey and the UH-34 at Marble Mountain, Dong Ha in 1966-67, I am delighted to offer you my White Dog Award.

We feel you have a beautiful site! There can never be enough thanks for our Veterans. To you Ned, I say, "thank you for your service to our country and welcome home." I say, "Hoooorah!"
Thank you again,
Aurence & Biegun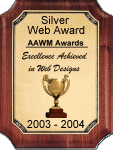 American Association Of
Web Masters
Silver Web Award
Presented to
CasperPlatoon.com
For Excellence Achieved in Web Design
Congratulations Ned, your site has been selected to receive the American Association Of Webmasters "Silver" Award. We see all the hard work and dedication that you have put into constructing your web site and your efforts are well deserved.
CasperPlatoon.com displays: Excellent Design and Layout of Website, with quality content and informative information for your visitors. Your site is a wonderful contribution to the Internet Community. Congratulations once again.
Sincerely,
Awards Committee
American Association Of Webmasters
_____________________________________________________

Sgt Pleiku's
Patriotic Spirit Award
Presented to
CasperPlatoon.com
Congratulations! Your website has earned Sgt Pleiku's Patriotic Spirit Award.
Sgt Pleiku's Award Program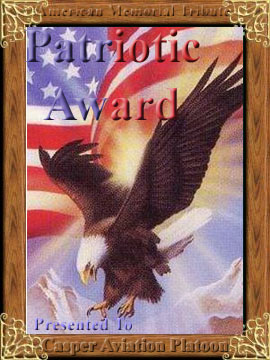 American Memorial Tribute
Patriotic Award
Presented To
CasperPlatoon.com
Congratulations! We really enjoyed looking at your website! You have a lot of military history, stories and photos of your unit during the Vietnam War. Your patriotic tribute that is dedicated to all American veterans and 911 victims is also very well done. It would be an honor for us to present CasperPlatoon.com with our Patriotic Award.
Thank you,
American Memorial Tribute