Casper aviation platoon OH-13 Model Dioramas

The most memorable image for most of the Casper OH-13 aircraft on top of a "Fire Base" as shown in the diorama #1 (above). These helicopters were used mostly for scouting missions.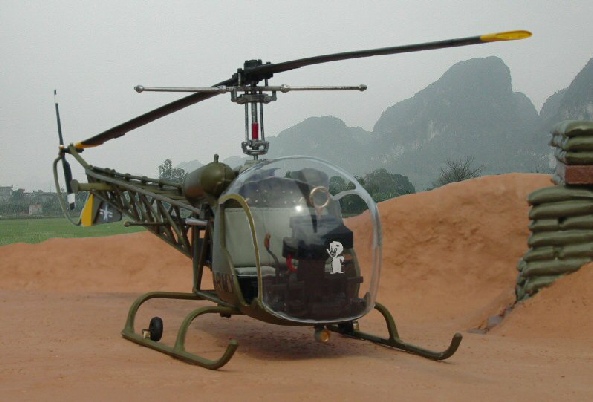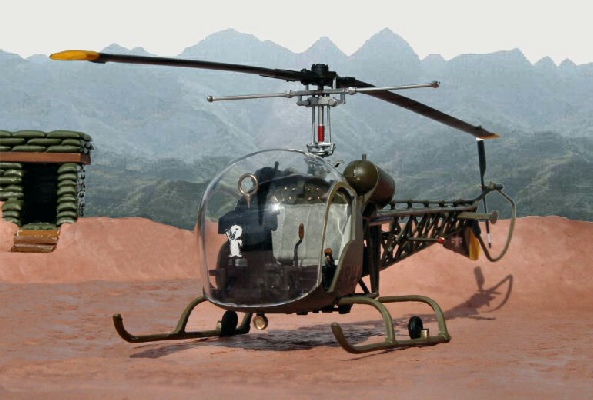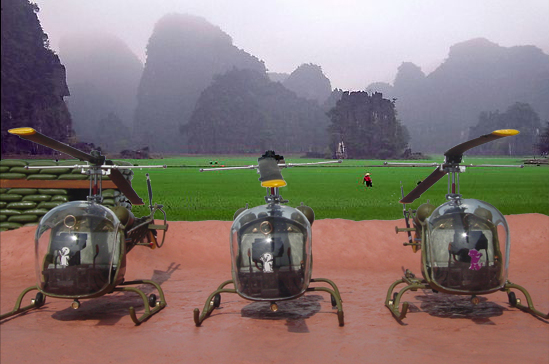 Vietnam War OH-13-S Sioux Helicopter Model Dioramas
Built By Ned Costa
OH-13S Sioux was derived from the commercial Bell Model 47G-3B. The OH-13S helicopter was some sixteen inches longer than the standard H model Sioux and was powered by a turbo-supercharged 260 hp TVO-435-25 piston engine. It could accommodate two persons in addition to the pilot, and had a gross weight of 2,855 pounds.
The OH-13S Sioux saw service during the early days of the Vietnam War before the introduction of the OH-6A Cayuse in early 1968. The Sioux had a single, two-bladed main rotor and a metal two-bladed tail rotor. This aircraft had a top speed of 106 mph (92 knots). Although the Casper Platoon OH-13 helicopters were used mainly for observation and reconnaissance missions, a few of the Sioux were armed with a twin M-60C 7.62mm machine gun system and were nicknamed "Hot Stuff.". An optional twin M-37C .30 caliber system was also available.
_________________________________
"Back At The LZ"
1/35 OH-13 Diorama #2
This model was built from the Revell M*A*S*H* 4077th Bell H-13H Kit. It is the only 1/35 scale OH-13 model that closely resembles the OH-13S. This model kit is discontinued and difficult to find. The model diorama displays the helicopter sitting on the ground at a "Landing Zone" (LZ) somewhere in the Central Highlands of Vietnam in 1966.
Sandbag, ammo boxes and barrels were often used as revetments. This was done to help protect the aircrafts and men from enemy gun fire and/or mortar attacks.
The above model proudly displays the Casper Platoon "Casper Ghost" insignia on the bubble of the aircraft.
A trio of OH-13 scouts parked at a FSB and ready for action in diorama #3.
_________________________________
"D-Maintenance"
1/35 OH-13 Diorama #4
In this diorama below, our "Hot Stuff" scout is ready for some routine maintenance in Bien Hoa.
For additional information about this page, please contact: Ned Costa

This site was last updated: 2/15/15
HOME PAGE